Vinyl Sheet, 2 x 2.30 m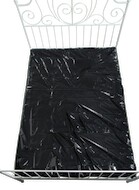 Product Information
Label:
Accessoire Bizarre
The perfect accessory for slippery games!

• Very large sheet for slippery fun in twos, threes…
• An amazing feeling
• Protects surfaces against liquids and stains
• 100% polychloride (vinyl)

Turn your bed into a large playground and enjoy hot massages or other wonderful wet games without having to worry about getting your bed dirty. And not only that, the slippery feeling on the vinyl sheet is absolutely amazing. So, order this vinyl sheet and try it out now!
Ratings & Reviews

Please sign in to rate a product

About Accessoire Bizarre
The "Accessoire Bizarre" brand makes exciting bondage games possible with its elegant restraints, gags and blindfolds. The sex toys and fashion accessories are perfect for BDSM beginners. The "Accessoire Bizarre" products and their saucy designs invite people to enter a cheeky, wicked world of BDSM. Further details About Accessoire Bizarre